The biggest range of kitchen knives on the Gold Coast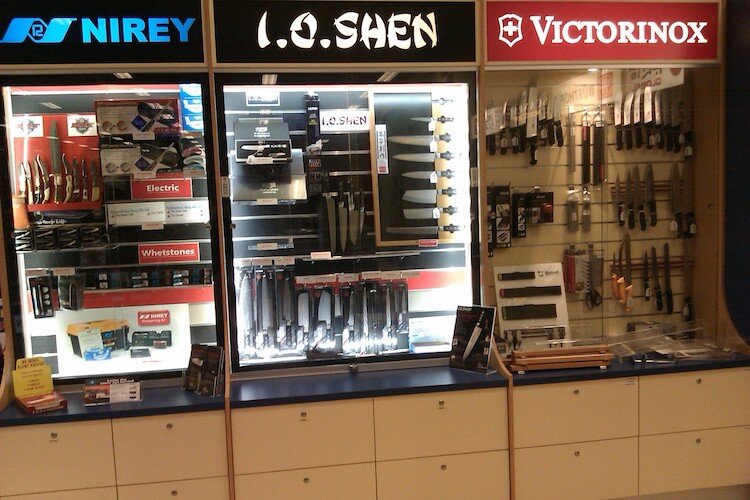 Chris and Judy Petersen own and run the King of Knives outlet in Robina on the Gold Coast. Judy started out with King of Knives in Darwin back in 1997 and they have been in Robina for five and a half years now, after a stint running the company store in Pacific Fair before that.
Chris and Judy pride themselves on having the biggest range of kitchen knives of any store on the Gold Coast, stocking items from a $6 vegetable peeler up to the top of the range Japanese and German knife brands. They even offer nine different types of vegetable peeler, from the $6 "cheap and cheerful" (although still good!) up to their top of the range $26 ceramic model.
King of Knives Robina stocks all three Total Knife Care main ranges – I.O.Shen professional knives, Nirey electric knife sharpeners and the Bolt Action range of sports/outdoor folding knives.
Chris has found the I.O.Shen range to be very popular among professional chefs,
"I come from a cooking background, so really appreciated the I.O.Shens when they came out." says Chris. "Even though it took a short while for the brand to get going, we're seeing more and more go out the door every month. What seems to happen is that a chef will come in and buy one to test. Then we'll see them back in again – in nine out of ten cases – to buy the whole range, often spending $600-$700. In one case I remember, a pro chef had just spent around $700 on I.O.Shens and he turned around and told an older couple who were shopping for a carving knife set that they had to get the I.O.Shen. That was an easy sale!"
King of Knives Robina also sell quite a few Nirey sharpeners, mainly the pro models (as of writing they're out of stock of these). Buyers range from tourists from interstate (holidaying market gardeners from Victoria are big fans, apparently) to fishermen to schools. School home economics departments often have fifty or more knives which need sharpening three times a year – owning a Nirey to do this halves the cost of knife sharpening as against getting them sharpened at King of Knives or elsewhere.
Once he sells a Nirey he rarely sees it back – Chris remembers one customer who brought a Nirey back with a wobbly disc holder, which TKC replaced within two days. On another occasion a customer came in with a domestic Nirey sharpener which Chris initially thought was a warranty claim, until the customer told him he'd had it for ten years and wanted to buy a new one.
They also stock TKC's Bolt Action range, which is a very specific market, as Chris describes,
"We stock quite a range of folding knives, including the Bolt Action Damascus steel models. They are very popular with collectors, who will often come in and buy entire sets of knives, sometimes almost emptying our display cabinets." says Chris.
Probably because of their impressive range and competitive pricing, Chris and Judy see quite a few professional chefs coming in to the store. There's not a huge amount of change in the knife world (apart from I.O.Shen of course), but Chris has picked up on a Brisbane based company called Dreamfarm, which is making some very interesting cooking implements, including a garlic press called 'Garject' which has a built in 'ejector' for the garlic skin once you've pressed it – it promises that you'll never get garlicky fingers again! So whether you're after a better garlic press, or you need to get a new set of knives, a trip to King of Knives Robina may be the way to go.