The Home of Nirey Sharpeners & I.O.Shen Knives – Delivered to Your Door

Knife Sharpeners & I.O.Shen Knives
A sharp knife is a safe knife – Use a Knife Sharpener to keep your knives sharp
What do our customers have to say?
james whelan
27. September, 2022.
fantastic company great product
Ben Wessling-Smith
26. September, 2022.
Great service. Delivery was amazingly quick.
Warren Woodford
8. August, 2022.
Could not ask for a better service one phone call ,and I had my order 2 days later
Great service & quick delivery
Stephen Monk
13. July, 2022.
TKC are a really helpful and prompt provider of great knives and sharpeners. Apart from the KE500 sharpener doing great things to ordinary knives, their IO Shen range of knives are awesome. The sashimi knife makes removing the skin from raw salmon childs play.
Great range of products, easy to deal with, and quick delivery. Very impressed!!!
Award Winning Nirey Electric Knife Sharpeners
Our award-winning Nirey Electric Knife Sharpener range caters for everyone from amateurs and professionals who are serious about keeping their knives sharp, through to serious continuous commercial users.
All knives will lose sharpness over time and an electric knife sharpener can keep your knives performing their best and allow you to perform regular, safe knife sharpening.
The I.O Shen chef knife and Nirey knife sharpener range can be purchased throughout Australia and New Zealand through Tackle Shops, Hunting Shops, Kitchenware Shops or online. When you chose Nirey, you are choosing the best knife sharpener available.
I.O. Shen MasterGrade Knives
The I.O. Shen MasterGrade range of chef knives have been endorsed by leading chefs abroad and are quickly obtaining a reputation for quality in Australia. A stunning range of 14 Japanese stainless steel chef knives using Triplex Steel Technology. The secret is the centre layer of Rockwell 62 stainless steel that provides the ultimate cutting edge, which will retain sharpness for an extraordinarily long time.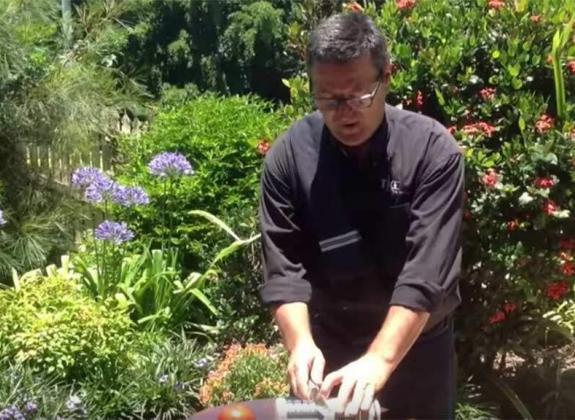 Professional Knife Sharpening Equipment & Chef Knives
Total Knife Care is Australian owned and operated and is the Australian and New Zealand Importer and Distributor for the Nirey Electric Knife Sharpener range and I.O.Shen MasterGrade Chef's Knives.
Knife Sharpeners & I.O.Shen Knives
A sharp knife is a safe knife – Use a Knife Sharpener to keep your knives sharp