Meet a real 'King of Knives' – Shane Nipperess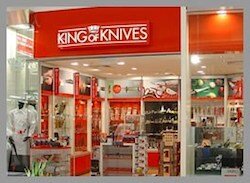 Shane Nipperess should know what he's talking about when it comes to knives – the family has been in the business for over 40 years combined and currently owns three King of Knives franchises, in Maroochydore and Noosa on the Sunshine Coast in Queensland, and one in the Brisbane suburb of Chermside.
His King of Knives stores stock a very wide range of knives from the most basic ones through to top end brands. That's because the customer base ranges from the home user through to chefs, hunters, butchers and seafood processing professionals.
Although entry level knives from around $9 are the most popular purchase, Shane stocks almost the entire range of professional I.O. Shen knives at his stores.
"Our top end Japanese made chefs' knives retail at up to $400 a piece, and are the premier pakkawood handled chefs' knives." says Shane. "But if you're looking for price and quality you really can't go past the I.O. Shen range. If you're after performance the I.O. Shen is definitely one to consider. Starting from $85 the steel is actually a degree harder than the premium Japanese knives and they are actually made from the same Japanese steel using the same process, just in Taiwan, not Japan. As they're quite new it's taken a while for people to hear about them, but now we're getting people coming in and asking specifically for them. The price point and the fact that they stay sharper for longer has been a big selling point."
Even though they keep their sharpness longer, eventually even an I.O. Shen Mastergrade knife will need sharpening. Shane's stores also stock Total Knife Care's range of Nirey sharpeners. Shane says that his 'most frequently asked question' is: "Are my blunt knives worth sharpening?"
For a long time Shane sold other electric knife sharpening products, the only problem was they just could not sharpen a really blunt blade unless you purchased the really expensive models.
"The first time I heard of the Nirey sharpeners was when a professional fish filleter came in asking if we stocked them. He was after the commercial version and so when Scott Thornton from Total Knife Care came in, he showed me how the sharpeners worked and I could see that it produced a really professional job – something that only a real expert could get from a whetstone. And it was easy and really quick. The fact that a fish filleter – someone who can only work with the sharpest knives – wanted one was good enough for me, so we stocked the range immediately."
There are three models in the range – recreational, professional and commercial. The recreational machine is perfect for the home user or fishers. It has a two stone system. The 240 grit stone is used to reprofile the knife edge and a 600 grit stone is used to polish the edge. The professional and commercial machines use a slightly different method to the recreational machine in that they both use belts to give a higher grade of polished finish to the knife edge. The main difference between the professional and commercial models is the commercial machine has a larger gearbox, bearings and motor making it perfect for continual heavy commercial use."
Shane stocks the entire Nirey range of knife sharpeners – the 'recreational' KE-198 ($159.50), the 'professional' KE-3000 ($299.95) and the 'commercial' KE280 which retails at $456.50.
Finally, Shane also stocks the Total Knife Care range of sports knives called – 'Bolt Action Knives', which he rates as "a lot of knife for $120 to $150", with inlays of antler, brass and redwood. They are available with a Damascus or a stainless steel blade, which stacks up pretty well against other premium brands made from Damascus that sell for over $1,000.