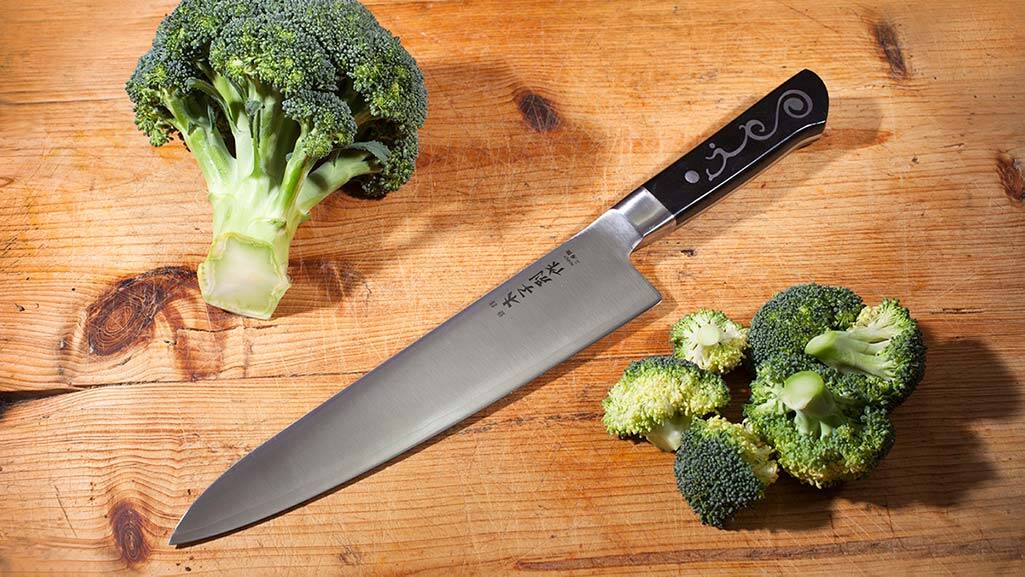 And if you would like to read the transcript, here it is!!
I find going into knife stores the same as going into wine shops totally overwhelming. How do you choose the right knife for you?
You go to the master of course. I'm here with Shane from King of Knives Chermside in Queensland and also the King of Knives Maroochydore, also in Queensland, to find out his top five tips on how to choose a knife.
Gidday Shane, gidday to you.
Mate yeh it can be a bit confusing and certainly overwhelming you know. You can see a lot of knives in here, that's one of my two cabinets. There is a few things to really consider when buying a new knife.
First thing and foremost I would say is the quality of steel. So really, if you're looking for a good quality steel, you looking for a German steel or a Japanese steel. They're your two main ones. There are things like Swedish steels that are great as well, but you won't find them commonly made into knives that are available.
If you're looking you know at your German and Japanese steals you are hitting the nail on the head there. And it's going to give you a good long-lasting edge. If you don't go for that quality steel, you'll have no edge retention, and you are forever sharpening the knife. You don't want that. No not at all mate.
Secondly you know, you should look at where the knife is made. And of course, if it's made in Germany or Japan, that's your top of the range. Failing that you can get them made throughout
Europe or Brazil. Taiwan do some great knives, but mainly probably steer clear of China, because they're not quite up to you know the rest of the world in the way the knives are made. You get what you pay for.
Absolutely you know. And each country will have a different way of making the knives. So forge steels, clad steels, you will have that sort of thing. And that just depends how long the knife will stay sharp. And how sharp the knife is. So look at where it's made and the quality of steel.
From there you need to look at your budget, so you can see a lot of knives up here.
I've got knives at four hundred dollars I sell knives for sixty dollars. Yes. They are all very good and a quality knife, but at the same time you're going to get more bang for your buck. It's like that wine shop again. Exactly mate. You get what you pay for.
So you know, think about also when you go in, what you are going to use the knife for. Ok we're not going to be carving a roast with a paring knife so really try and suit. My wife tries to. It does happen a lot. The paring knife is a very popular knife in the kitchen. It is. But it isn't the ideal tool for everything and that's something to consider when buying a knife.
Also, did I talk about budget? If you want to watch your budget you know I wouldn't spend anything under sixty dollars. And that can go upward to three or four hundred dollars. When you go to that cheaper end, generally you're getting a Chinese-made, Chinese steel knife. And you're wasting your time there's no doubt about that.
Probably one of the most important things as well when going in is the feel of the knife. It's got to feel right in your hand. So, you know I use Wusthof knives, which are top-of-the-range German I love the feel of it. But the next person may not like that so much and might be more into something like a I.O.Shen or Victorinox. You've got everything here! We've got a lot of different knives, they're all very good quality but I think the main thing is look at your steel. Look where it's made, and make sure it feels comfortable in your hand.
If you stick to those tips, you're going to get a knife that's going to last you a long time, and serve you well in the kitchen.
Thank you mate, thanks for your expertise.That's his top five tips, I'm not sure it was five but it was great information
Thanks Luke. Thank you.